Solid Body & Hair Set
Lemon, Cedarwood and Lavender
Your advantages:
Delivery interval
Every 4 & 8 weeks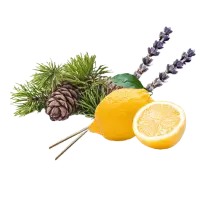 Duftet nach Zitrone, Zedernholz und Lavendel
Delivery: Tuesday, Jun 06 (1 to 3 days)
Free shipping from 20,00 €
30 days money back guarantee
Description
1x Body Wash Bar - Citrus
1x Body Wash Soap Bag
1x Shampoo Bar - Citrus
1x Shampoo Soap Bag
1x Conditioner Bar - Citrus
1x Conditioner Soap Bag
more information
Certificates
9 reviews
Latest rating
T
"I love the scent!"
Review translated
Show original

🇩🇪
For a stress-free & foamy shower time

Our soap bags are really perfect for foaming up and storing our Solid Care products.
These bags are super handy for drying, using up leftover soap, and making the most of your Solid Care products. Better foam means using up less product.
The different coloured drawstrings also make it super easy to tell the solids apart, so you'll never have to waste precious shower time wondering which solid is which.
This product
Is awarded with
GOTS-certified products are characterised by an environmentally friendly production and processing procedure throughout the entire production chain. It is forbidden to use hazardous inputs such as toxic heavy metals, aromatic solvents, etc. Products must consist of at least 70% organically produced natural fibres.
In the case of certified detergents and cleaning products, great importance is attached to the protection of the environment and its resources, as well as to consumer protection and the best possible transparency. Ecocert certified products must not produce any avoidable waste and waste water. Ecocert also distinguishes between synthetic and natural ingredients in detergents and cleaning products.